Recently there is a craze for watching Mission Impossible 4 DVD. The movie is state of the art in the same genre, winning viewers' hearts and prompting movie lovers to get the copy of Mission: Impossible Ghost Protocol, but how to rip Mission Impossible 4 Ghost Protocol DVD exactly on hard disc of Win or Mac platform, even on the portable devices such as your iPad, iPod, iPhone, Kindle Fire, Smartphone? In this article, a detailed guide is offered to you.
You may need an excellent tool such as Magic DVD Ripper to help you. Just download Magic DVD Ripper here ( Mac users need to download the Mac version ). Then you need to install the program and follow the steps below. But before that, you'd better check your Internet connection and shut down other decryption programs in case of software conflict.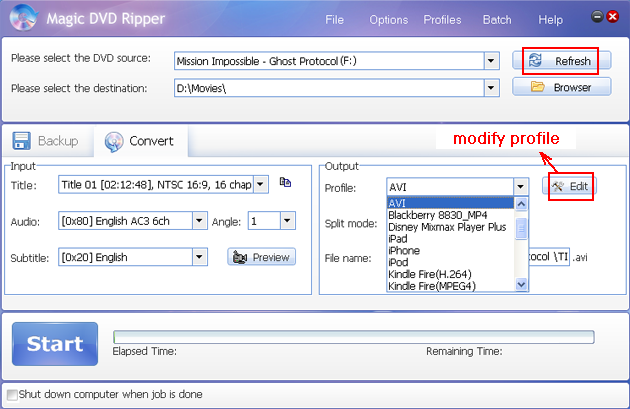 1.Launch the program and insert the Mission Impossible Ghost Protocol DVD.
2.Set the input source and output destination. If the program failed to load the DVD file, just click "Refresh" to reload.
3.In the "Input" column, specify the title you wanna rip, either one title or multiple titles. And also from the drop-down lists, you can choose the audio and subtitles according to your need.
4.In the "Output" column, you need to set the profile, split mode and file name. You don't need to know the exact format of your media devices, because the program has thought about that for you, just select the profile according to your media devices.
Note: If you have special requirement to the video and audio, you can always click the "Edit" button beside the profile selection box, and finish the setting in a pop-up window like the one below.
5.Click the "Start" button to begin when all the settings are finished.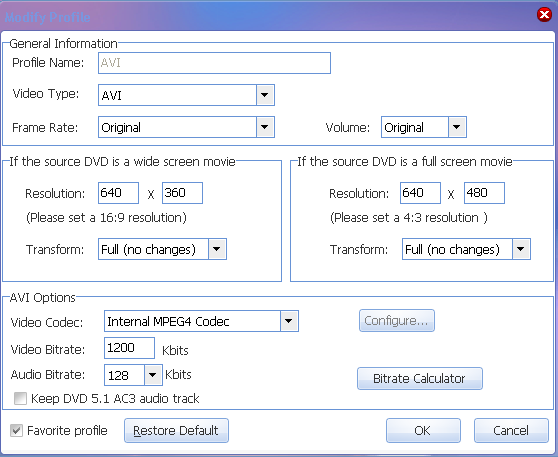 By the above steps, you can get a very excellent copy of the DVD. Just try to rip Mission Impossible 4 Ghost Protocol DVD yourself, choosing the desirable formats to make the watching on various devices possible. If you still get any problems when ripping Mission Impossible 4, feel free to let us know, and you will get the useful reply as soon as possible.
Free Download Magic DVD Ripper (Full function trial)
Get Magic DVD Ripper $74.94, Only $49.95 (Full license + lifetime Year upgrades)

Get Magic DVD Ripper + DVD Copier for only $59.96, save up to 60% (Full license + Lifetime upgrades)