Once we mentioned Nicolas Cage, we'll remember "Con Air", "GhostRider", "The Rock", he directs so much miracles, this time he changed to be a thousands years old magician in Disney movie "The Sorcerer's Apprentice" , really very expectant. Now this movie is on DVD, do you want to backup it on your own computer, and burn it as gift to your best friends as a Christmas present? Magic DVD Copier can help you do that easily, just by several clicks.
For Magic DVD Copier users, please first download the latest version from http://www.magicdvdripper.com/dvd-copier.htm and install it. Then you can begin to copy this DVD by the following steps:
1) Insert "The Sorcerer's Apprentice" to your DVD drive.
2) Insert a blank DVD to your DVD burner. (if you only have one burner, then skip to step 3, as Magic DVD Copier will automatically choose your burner as the target.
3) Choose a proper copy mode.
4) Press "Start" to begin.
Note: Magic DVD Copier can decrypt DVD indepently, don't run other decrypter when using Magic DVD Copier.
If you still failed on the DVD with this version, maybe your edition is another one, please keep the original DVD in your DVD drive, click

on the top right corner of Magic DVD Copier, click "Export ifo files", then you will get a .ifz file, just save it to your desktop, and send email to support@magicdvdripper.com , we'll fix it in one day.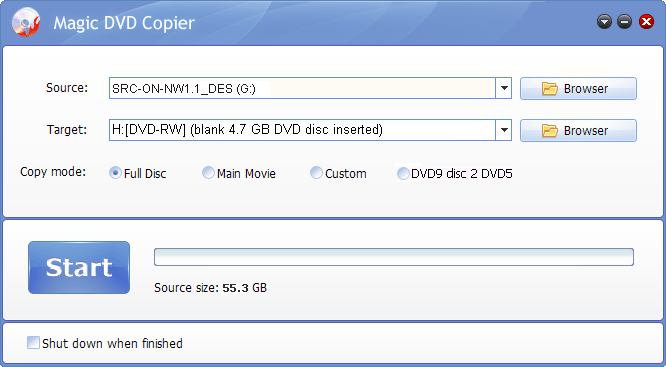 Free Download Magic DVD Copier (Full function trial)
Get Magic DVD Copier $74.94, Only $49.95 (Full license + lifetime Year upgrades)

Get Magic DVD Ripper + DVD Copier for only $59.96, save up to 60% (Full license + Lifetime upgrades)