Movie The Twilight Saga Eclipse was on DVD on Dec 4, 2010. It has two editions, single disc edition and two-disc special edition. Every edition has multiple versions. So far, Magic DVD Ripper has fixed eight versions of the single disc edition and one version of two-disc special edition.

You may download the latest Magic DVD Ripper from http://www.magicdvdripper.com/ and install it. Then follow the steps below to rip it to avi format.
1) Make sure you didn't run other dvd decrypters in the background. They can conflict with Magic DVD Ripper.
2) Make sure you computer is connected to internet.
3) Launch Magic DVD Ripper and click "Convert" tab.
4) Insert "Twilight Saga Eclipse" to your DVD drive.
5) Choose a folder as the "Destination" by clicking the folder icon beside "Destination" box.
6) Choose a proper audio track, subtitle, and choose "Avi" profile from the "Profile" dropdown list.
7) Click "start" to begin ripping.

Since we've fixed a lot of versions of the DVD, there must be other version we still haven't met. Usually, if we have fixed the DVD, you can only see one long title in the "Title" dropdown list. If you can see a lot of titles with nearly the same duration, that means this is a new version and we haven't fixed it. On this occasion, please keep the DVD in your DVD drive, then click "File"->"Export ifo files..." to export all the ifo files of the original DVD. Then send the exported file to our support team, then we'll fix it within one day.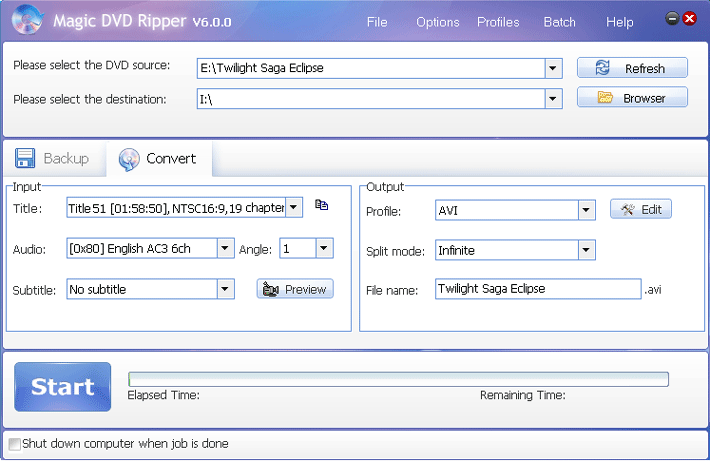 Free Download (Full function trial)
Get Now(Only $34.97)