Nowadays people use their SmartPhones to do all kinds of things, but what if your SmartPhone cannot play your favourite DVD? Things will never be so annoying if you have got Magic DVD Ripper and know how to rip DVD to SmartPhone. In the following passages, you could learn how to deal with that powerful software.
The first thing you should do is certainly to download Magic DVD Ripper. Install the program, shut down other decryption programs and make sure of a fine Internet connection. Then, do as the steps below to finish the operation.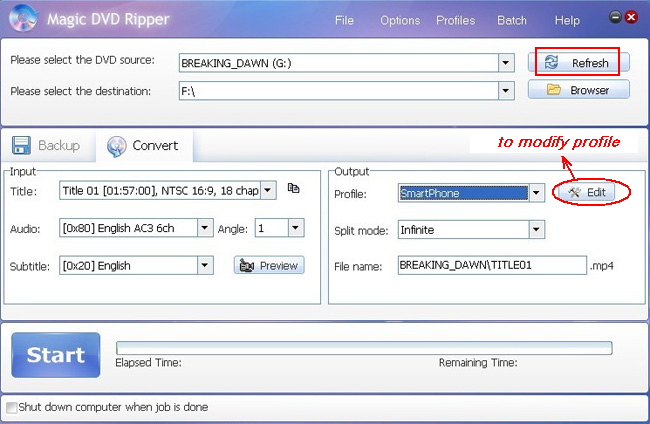 1.Launch Magic DVD Ripper and insert the DVD.
2.The program can often select the source file automatically, but if it failed at first, just click "Refresh" to make it reload.
3.Specify the destination directory.
4.In the "Input" form, choose the title, either one title or multiple titles to be ripped, and also select the audio and subtitle to the required language. All the settings here can be finished through the downlists.
5.In the "Output" form, select "SmartPhone" as the profile from the downlist. You can always hit the "Edit" button to modify the specifics like resolution or video quality in a window like the one below. But if you have no such special requirement, just move on to step 6.
6.Choose the split mode and put in the file name as you wish.
7.Click "Start" to let the program work.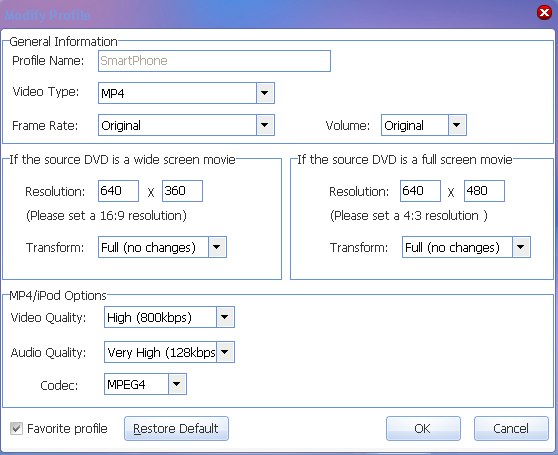 By now the whole process of operation has been shown to you detailedly, actually quite simple, isn't it? You just have a little try yourself, using Magic DVD Ripper to rip DVD to SmartPhone, all the problems about watching DVD on SmartPhone will be completely cleared away.
Free Download Magic DVD Ripper (Full function trial)
Get Magic DVD Ripper $74.94, Only $49.95 (Full license + lifetime Year upgrades)

Get Magic DVD Ripper + DVD Copier for only $59.96, save up to 60% (Full license + Lifetime upgrades)