Scarcely can a software ripping DVD to various formats be so easy-to-use. When you get to know Magic DVD Ripper, as an owner of Samsung YP-P2 Player, you will naturally throw away all the problems about DVD ripping and watching, for the program simply helps you rip DVD to Samsung YP-P2 Player with the best watching quality. Therefore, in the following paragraphs, let's know more about Magic DVD Ripper and most importantly, the easiest way to get excellent ripping.
Please download Magic DVD Ripper from here and install it. Check other decrypters are shut down and your Internet connection is fine. Now it's time to launch Magic DVD Ripper and follow the steps below.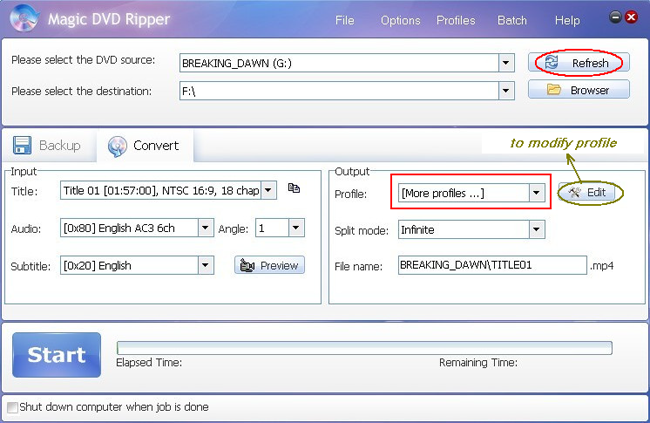 1.Insert your DVD into the drive. If the DVD file hasn't been loaded, you could click "Refresh" to make the program reload.
2.Select a proper destination file.
3.Choose the desirable input features such as title, audio and subtitle.
4.Move to the profile setting. Maybe you could not find exact profile from the profile downlist, so select the last "[More profiles ...]" and then check the checkbox in the front of "Samsung YP-P2 Player". Hit "OK" then the profile will be added. In this step you can see such a window just like the picture below.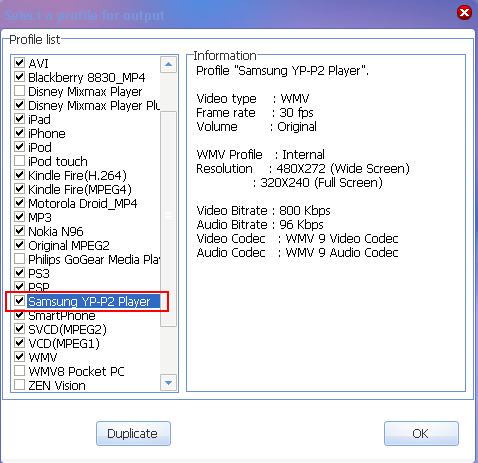 Note: If you have special need for the profile, you could click "Edit" to modify the profile. The resolution, as well as other features of video, all that can be altered to your wish.
5.Set the split mode and file name, and click "Start" finally.
When you finish the above setting, Magic DVD Ripper will responsibly give you a nice outcome. No choppy quality, and also, no DVD restriction. As long as you rip DVD to Samsung YP-P2 Player with Magic DVD Ripper, your joyful viewing experience is guaranteed.
Free Download Magic DVD Ripper (Full function trial)
Get Magic DVD Ripper $74.94, Only $49.95 (Full license + lifetime Year upgrades)

Get Magic DVD Ripper + DVD Copier for only $59.96, save up to 60% (Full license + Lifetime upgrades)