It's really annoying when you fail to watch DVD on your Nokia N96. You may ask, "Is there an easy way to rip DVD to Nokia N96 without any quality loss?" The answer, actually, is using Magic DVD Ripper. Read the following guide and you can know what exactly you should do.
You can always free download Magic DVD Ripper here. Install the program, and before launching the program, check if there are no other decryption programs running and the Internet collection is fine. Then, you just start up the program, insert your DVD and do the steps below.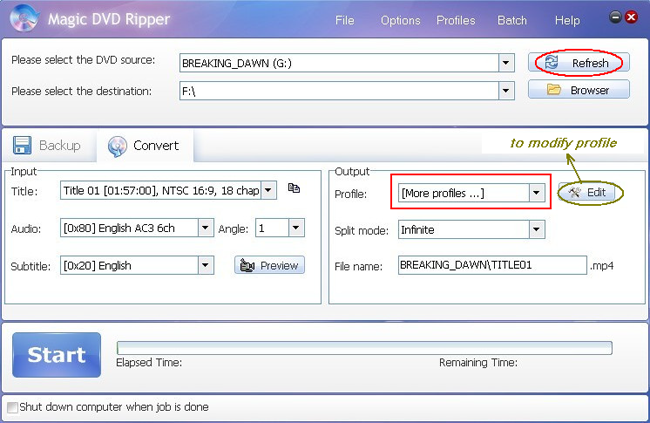 1.Select the input source as well as the output destination. Hit "Refresh" when the program failed to download the DVD file.
2.In the "Convert" form, put in proper title, audio and subtitle, which you can all choose from the downlists.
3.As for the output profile, you may find the one you need cannot be selected directly, so just select "[More profiles ...]" and further check the required profile "Nokia N96", just like the window shown below.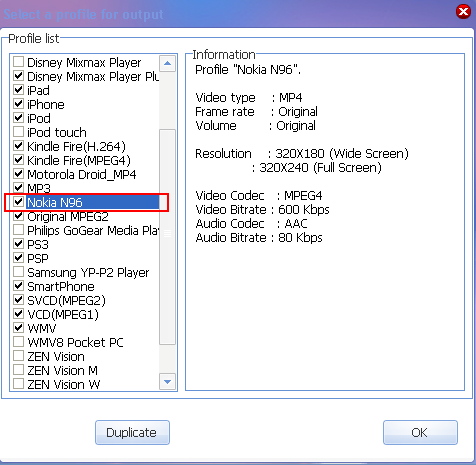 4.If you want to modify the resolution or video quality, etc. Just hit the "Edit" button to modify the profile. If you have no such requirement, then skip to step 5.
5.Choose the split mode and put in the file name as you like.
6.Hit the "Start" button and wait for a nice viewing on Nokia N96.
Rip the DVD to Nokia N96 as you are told above, everything about ripping and watching will be settled beautifully. No format restriction, no DVD protection, no video and audio asynchronization, all you have is just a free and pleasant viewing experience, which can be achieved by Magic DVD Ripper easily.
Free Download Magic DVD Ripper (Full function trial)
Get Magic DVD Ripper $74.94, Only $49.95 (Full license + lifetime Year upgrades)

Get Magic DVD Ripper + DVD Copier for only $59.96, save up to 60% (Full license + Lifetime upgrades)