What obstacles prevent you from watching your interested DVD on Motorola Droid? The format? The region code? Such things will never disturb you if you have Magic DVD Ripper. This software can convert DVD into various formats without any quality loss. If you are unfamiliar with it, let's see how we could rip DVD to Motorola Droid in a very simple way.
Download Magic DVD Ripper from here and install it, then you should make sure other decryption programs are shut down and the Internet collection is fine. Start the program and insert your DVD into the drive, following the steps below to do the setting.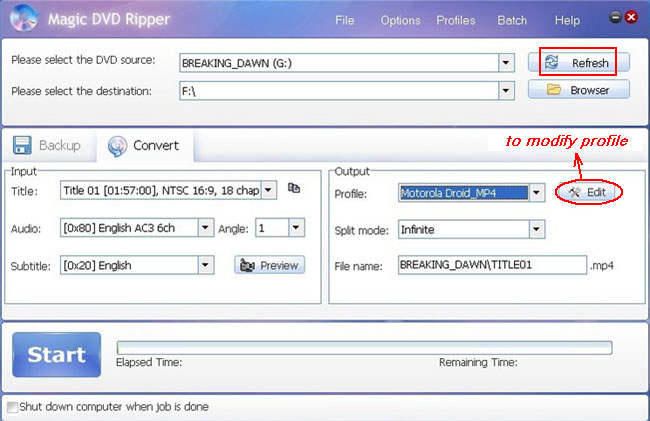 1.Set the source file, as well as the ripping destination. Don't forget to hit the "Refresh" button if the program failed to load the DVD file.
2.Modify the input features to your need. Just select your desirable title, audio and subtitle, etc.
3.Select the profile as "Motorola Droid_MP4" from the downlist. If you have specific need to the profile, click "Edit" to modify it. See the picture shown below.
4.Continue to set the split mode and file name for the output features.
5.Click "Start" and wait a few minutes to see a perfect outcome.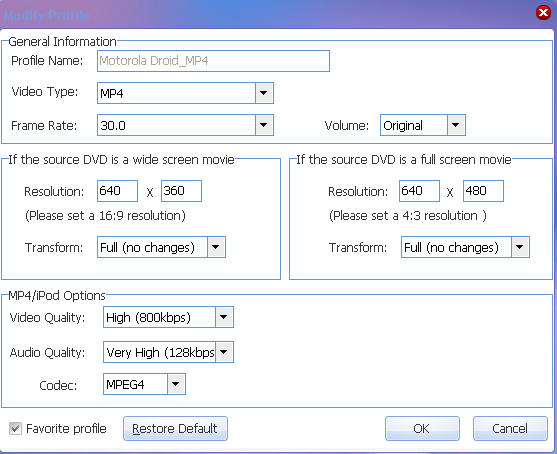 You see, the whole process is as simple as just clicking several times. By the way, when you feel confused about the function of certain field or button, just leave your mouse stay on that for one or two seconds, the corresponding information will appear to give you the guide. This is especially helpful to some green hands.
Thus, ripping DVD to what you want can hardly be any irritating work. To check this, you could just try to rip DVD to Motorola Droid with Magic DVD Ripper now. The software deserves your trust and never disappoint you in fact.
Free Download Magic DVD Ripper (Full function trial)
Get Magic DVD Ripper $74.94, Only $49.95 (Full license + lifetime Year upgrades)

Get Magic DVD Ripper + DVD Copier for only $59.96, save up to 60% (Full license + Lifetime upgrades)