If you have got a smart Disney Mix Max Player, you certainly want to put your favorite video into it. But if the format of a certain DVD, or some kind of DVD protection set the obstacle, how could you react? Never worry about this, since you could rip DVD to Disney Mix Max Player with Magic DVD Ripper now!
You could download Magic DVD Ripper and follow the steps below to do the ripping. And before that, you should shut down the other decrypters and give yourself a fine Internet collection.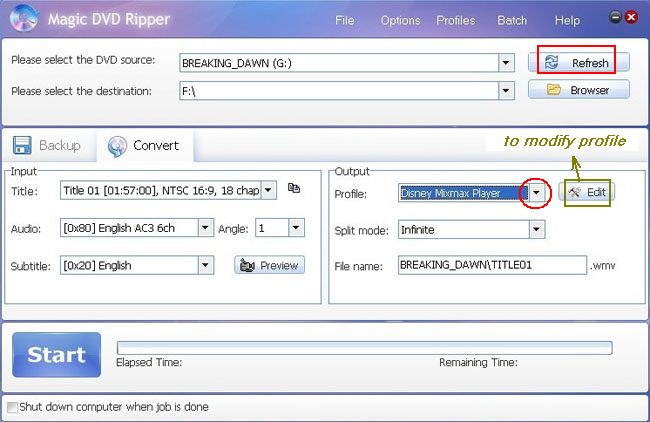 1. Launch the program and insert the DVD.
2. The program often automatically locates the source file and if it failed, you could hit "Refresh" button. Besides, choose a proper destination directory by clicking "Browser".
3. Put in the input features as you like, namely, you should select the title, audio track and subtitle, etc.
4. Set the output profile as "Disney Mixmax Player" from the downlist. If you need the profile for "Disney Mixmax Player Plus", just choose the last one "[More profiles …]" and tick the checkbox to add the profile. See the picture shown below.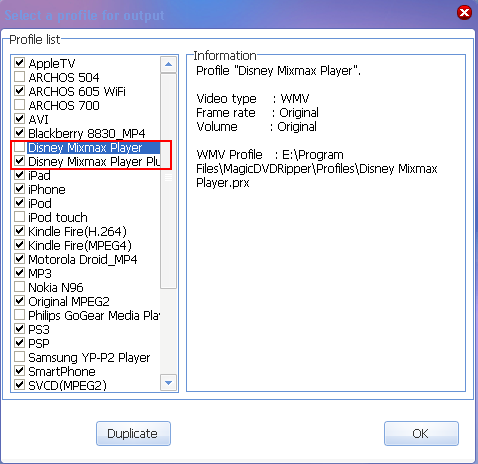 5. If you have some special need about the profile, just hit "Edit" to modify it. You can either choose a custom WMV profile or set the statistics about the resolution and Bitrates of WMV. But if you don't need to modify the profile, just skip to the step 6.
6. Put in the split mode and output file name.
7. Click "Start" and leave the ripping work to Magic DVD Ripper completely.
In this way, you can easily put the DVD video into the lovely Disney Player, with gorgeous watching quality and no DVD restriction at all. Just try to rip DVD to Disney Mix Max Player by yourself, seeing how Magic DVD Ripper produces magic at once!
Free Download Magic DVD Ripper (Full function trial)
Get Magic DVD Ripper $74.94, Only $49.95 (Full license + lifetime Year upgrades)

Get Magic DVD Ripper + DVD Copier for only $59.96, save up to 60% (Full license + Lifetime upgrades)