One DVD movie includes main movie, trailers, footages, menus and others. Generally, most of us just want to watch the main movie. Magic DVD Copier can copy the main movie only of a dvd and cuts out additional parts of dvd. This article will show you how to copy main movie only of a dvd with Magic DVD Copier. Follow below steps.
Step 1. Free download Magic DVD Copier from official website. Install it to your computer.
Step 2. Run Magic DVD Copier. Insert DVD disc to computer drive, then the dvd information will show on the interface automatically.
Step 3. Click "Browser" button to specify the target.
Step 4. Click "Main Movie" radio button, pop-up a "Main Movie" box. Then choose "audio" and "subtitle" you need.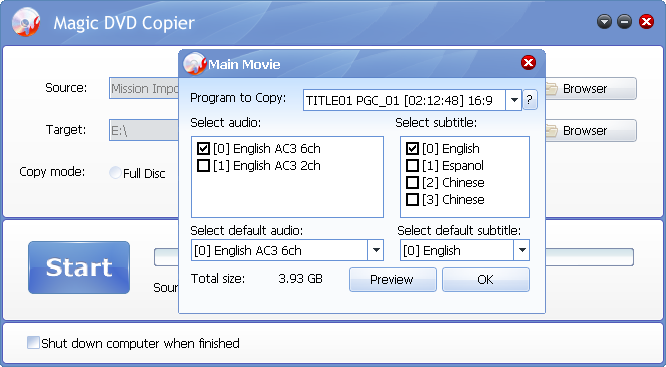 Step 5. Click "Start" button to copy main movie only of the DVD.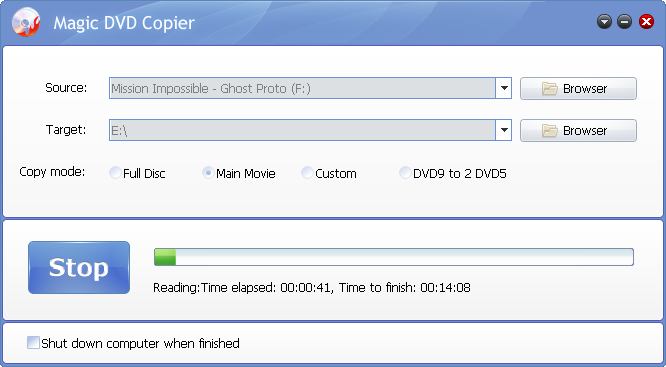 Magic DVD Copier is a powerful DVD copy software tool, which can copy dvd without any loss of quality. It has four Copy mode. You also can copy full dvd disc, copy DVD9 to 2DVD5 or Custom. Please refer to: How to copy DVD9 to DVD5 with Magic DVD Copier?