DVD watching is an essential part to many people's daily fun, and it will add more joy if we can have the movie or TV series to watch on the go. MP4 is a most widely-used media format for many devices especially portable ones, so it is very necessary to know how to rip DVD to MP4. If you convert DVD to MP4 format, you can not only get rid of the possible loss due to DVD damage, but also enjoy your favorite DVD wherever you want.
DVD is a digital optical disc storage format which can be played in many types of players, while as a disc, it cannot be played in many portable devices, needless to say, there are lots of protections making the playback of DVD more restricted. MP4 as a media format, has smaller size for the file and more popularity in all kinds of portable devices. If you want to rip your DVD and watch it on Apple products like iPhone or iPad, you also need to convert the DVD to MP4. To achieve this goal, Magic DVD Ripper is definitely a recommended tool. Therefore, you need to firstly download Magic DVD Ripper from official website, install the program on your computer and then follow the procedures below.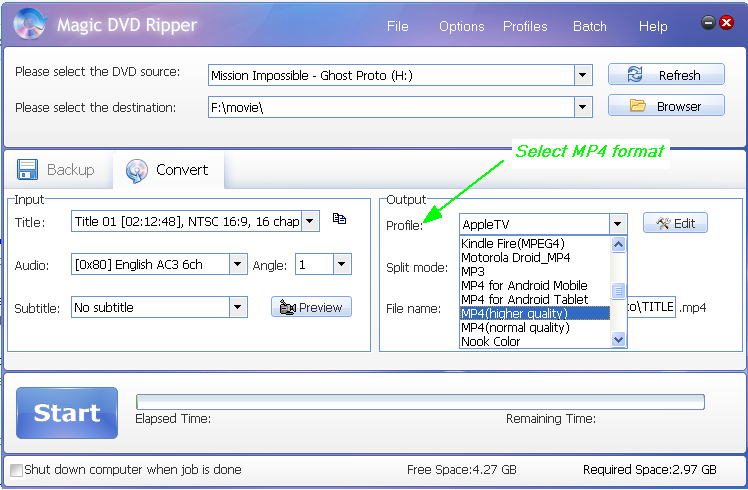 Step 1 Launch the software and insert the DVD you want to convert. Program will automatically load the disc information.
Step 2 Set the destination folder for the ripped file. Specify the Title you want to rip. You can also change the Audio and add a subtitle. The "Preview" button beside will let you view the outcome in advance.
Step 3 Find the "Profile" tab in the right column, you can select the MP4 format from the drop-down list. Note that there are several options for MP4 accordingly. You can also Edit the profile by hit the "Edit" button and set details.
Step 4 Set the split mode and file name for your ripped file.
Step 5 Click the "Start" button, program starts ripping the DVD to MP4 file. Just in a few minutes, you can see the outcome in the destination you just specified, and freely watch the file in your portable devices as you want.
If you use Mac and want to do the above operation on your Mac, you need the Mac version of Magic DVD Ripper and you can refer to http://mac.magicdvdripper.com/dvd-to-mp4.htm for corresponding tutorial.