Subtitle is a textual version of a film or television program's dialogue that usually appears at bottom of screen. Subtitles include narrative subtitle, in which spoken dialogue is displayed, and forced subtitle, which is not so common. Here below we will introduce you this term and teach you how to rip forced subtitles only from DVD by yourself.
Forced subtitle is the subtitle appearing on screen when the characters speak a foreign or alien language, or there is a sign, location, or other text in a scene which needs to be explained but cannot be translated in the localization or dubbing. For example, in a DVD movie, main characters come to Italy and meet the local people who speak Italian, then the DVD will show the translation of the Italian speech in text to help audience who don't know Italian to grasp the movie details.
In DVD, there exist many such kind of forced subtitles. People sometimes don't need subtitle shown on screen but they don't want miss these text information brought by forced subtitles, so how to rip forced subtitles only from DVD? Magic DVD Ripper can help you on this. Just follow the steps below to accomplish this task.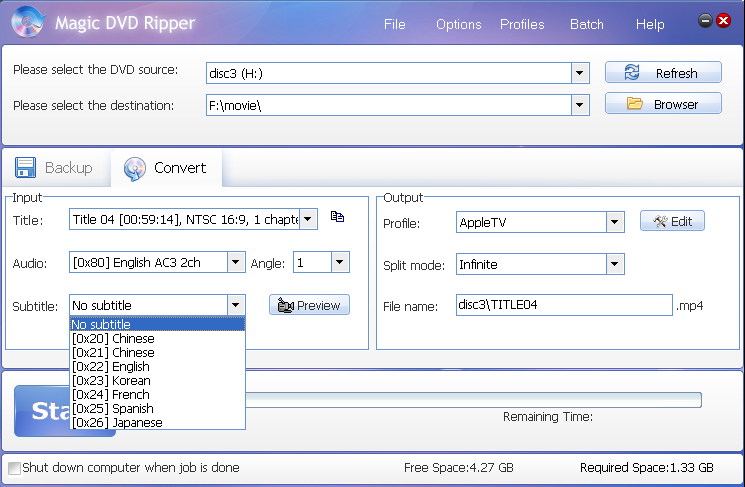 Step 1 Free download Magic DVD Ripper from official website and install it on your computer.
Step 2 Insert the DVD you want to rip forced subtitles only, program automatically load the information and you set the destination for ripped file.
Step 3 Select the Title if there are multiple titles and do other settings like output profile, split mode, file name, etc.
Step 4 In "Subtitle" column, you can see many choices for subtitle language and just select "No Subtitle", which can allows you to omit narrative subtitles but maintain the forced subtitles in DVD.
Step 5 When you finish all the settings, click "Start" button to make the ripping begins. Just in a while, you will see the ripped file in the format you specified and has only forced subtitles.
Follow the above tutorial, you can very easily rip forced subtitles only from DVD, and when you watch the ripped file on computer or other portable devices, you will find it more pleasure and the outcome is more ideal. If you use Mac and wonder how to rip forced subtitles only on Mac, you can refer to How to Rip Forced Subtitles only from DVD on Mac?