For Magic users who did not know how to rip a protected DVD and keep the subtitles, this article provides you a simple wizard to complete and will clarify you more features of this application.
Magic DVD Software is a DVD decrypter tool for ripping any kind of DVDs including the protected DVD to different video formats that can be compatible with most of the popular multimedia devices. In this article, we will take Magic DVD Ripper for an example to guide you on how to rip a protected DVD and keep the subtitles for any commercial protected DVDs.
Step 1. When you get a purchased DVD or rented from a store and you want to make a copy to watch on your computer, or on your portable devices such as your mobile phone, iPad, etc, you actually do not know if it is encrypted for those DVDs. Frankly, for any commercial DVDs, you can not copy it of your own volition. Therefore, please download Magic DVD Ripper and install on your computer so as to go on doing what you wanted.
Step 2. Launch this program, but before doing this, make sure there are no other decrypter tool running at the same time and make sure the Internet connection is fine. Then, insert your DVD disc into DVD drive. And the program will detect the DVD and load into program automatically. If it failed, press "Refresh" button to detect again. After the DVD has loaded successfully, you can set the destination and the format of output.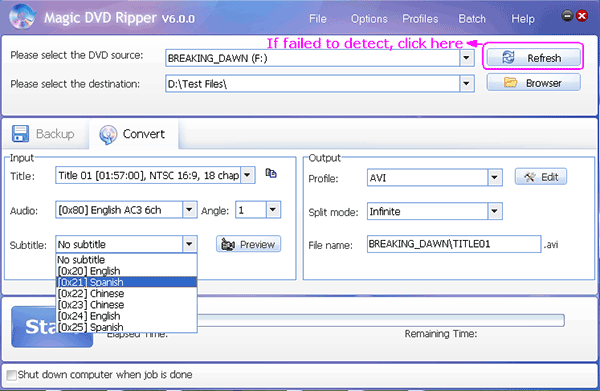 Step 3. Because the subtitles are not hardcoded on the DVD video, so we can choose the subtitles which you want to keep. Thus you can rip the DVD and keep subtitles on your own to meet your requirement. However, if DVD subtitles did not display as srt, sub, ssa, etc subtitles format but hardcode on video, you can not do this operation successfully and this program can not detect the subtitles to select.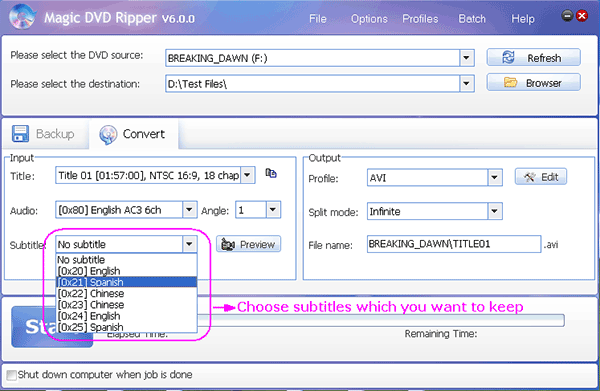 Step 4. Just click the "Start" button to rip the protected DVD. After you have done, you can get the ripped video with the subtitles you wanted.
Now, if you want to rip a protected DVD and keep the subtitles to satisfy your willing immediately, just download this program and do as we referred above.
Free Download Magic DVD Ripper (Full function trial)
Get Magic DVD Ripper $74.94, Only $49.95 (Full license + lifetime Year upgrades)

Get Magic DVD Ripper + DVD Copier for only $59.96, save up to 60% (Full license + Lifetime upgrades)