Step 1: Adjust the parameters of DivX codec
Launch Magic DVD Ripper. Click "Convert" tab and choose "AVI" from the profile option. Then click "Edit" to switch into the Modify Profile Window. Choose "Divx Codec"from the Video Codec dropdown list. And then click the "Configure" button. Then a window will present all the parameters of DivX codec as shown below.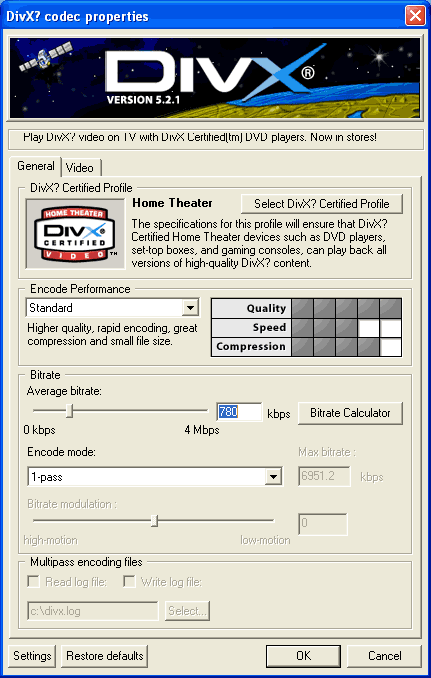 The Encode Performance option affect the quality. You can choose a appropriate option to get higher quality. But higher quality and compression, lower speed.
The Bitrate parameter is the key to determining quality. Higher value, higher quality but bigger file size. To hit a target file size you can use Bitrate Calculator to calculate the bitrate. Click the "Bitrate Calculator" button in the settings window of Magic DVD Ripper, the calculator window will appear as shown below.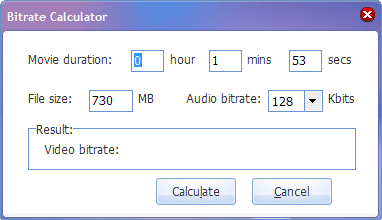 Simply enter your target file size, the length of your DVD movie, and the audio bitrate. Then press the Calculate button. The value of video bitrate will appear. Then you can open the configuration window of DivX codec and set the Bitrate parameter to this value.
Step 2. Increase the resolution of AVI
The resolution is also a factor of influencing quality. You can increase the resolution to get higher quality. Please note you must make the resolution keep 4:3 to get the correct aspect ratio, since the aspect ratio of the computer screen is 4:3. And because the resolution of source DVD movie is 720*480, Increasing the resolution too much will not improve the quality. The highest value recommended is 640*480. You can change the resolution in the AVI Options of the settings window. Then press the OK button to save it.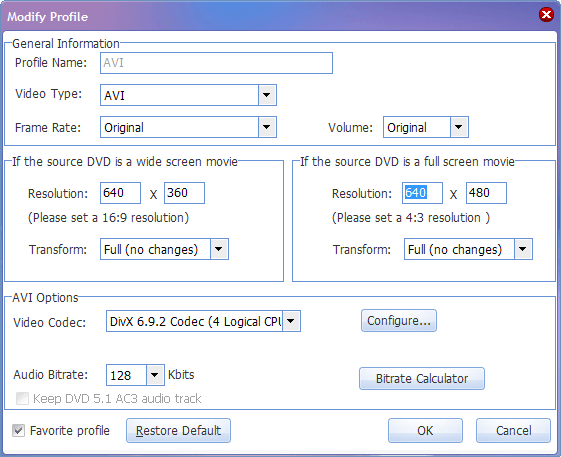 Please note: If you want to play the DivX Video on widescreen monitor, please change the resolution of AVI to 16:9 like 640*360 and choose "Full (no changes)" from the Zoom dropdown list.

Return to Magic DVD Ripper


Download Magic DVD Ripper


Special Offer - save $28.99: Magic DVD Ripper for only $49.95 (Full license + Lifetime upgrades)